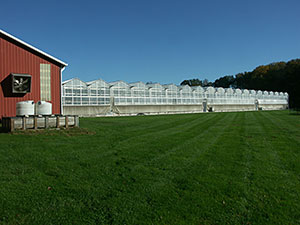 Sustainable Controlled Environment Agriculture – The EcoComplex has conducted research and pilot-scale demonstrations on methods to make greenhouse production more sustainable. These practices conserve water, energy and plant nutrients and reduce carbon emissions for the production of greenhouse crops. Our research included the following technologies;
Recirculating hydroponic crop production
Aquaponics (aquaculture and hydroponics)
Energy conservation in the greenhouse with heated floors and energy curtains
Biogas and Landfill gas for heating greenhouses
Cogeneration
Reduced pesticide use through exclusion of insects
Workforce development for the physically and mentally challenged
Co-locating greenhouses next to landfills, anaerobic digesters or sources of waste heat are great opportunities for sustainable controlled environment agriculture.

Another opportunity in NJ is the inclusion of sustainable farming practices on direct market farms. This not only improves the sustainability of the farm, but also allows the general public to learn and experience first-hand, these practices on a working farm.  This will, in turn, attract a broader audience to the farms and improve the overall profitability of the operation. 
Technical assistance is available at the EcoComplex for Sustainable Agriculture on a consulting basis.
For More Information
Please contact David Specca at 609-499-3600, ext. 4226.